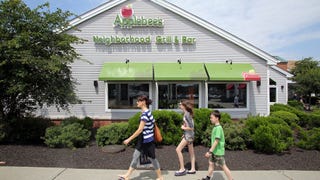 After seeing his parents interact with a local Applebee's on Facebook, Chip Zdarky noticed that unlike Chili's, the prettiest girl in school with 12 billion likes, Applebee's was mostly talking to itself. Just like the lonely but very friendly kid you sometimes encounter in a middle school lunch room, Applebee's was…
CBC Music arranged for 5-year-old piano prodigy Ryan Wang to play a private concert for a 101-year-old grandma named Dorothy Landry who isn't into "rock n' roll" or "all that modern stuff." And they hug and cry and it's touching as fuq. Because we were not already dehydrated enough by this damn weather without …
Growing up, touching my hair was the sole province of the family caregivers who would wash, brush, braid, cornrow, pigtail, or hot comb it until I was myself old enough to manage its daily styling. As I entered adolescence, those family members were replaced by the professionals who'd relax it during the school year…
Because you wouldn't go up to a stranger (any stranger, really) and ask to touch that person's hair without being justifiably throat-punched, un'ruly, a site that focuses on the experience of being black and having hair, is launching a public exhibit in New York's Union Square called "You Can Touch My Hair." Want to…
Ladies, let's see a show of hands if the following has happened to you: You're out at a bar or a similarly crowded venue meant for socializing. You're minding your own business, chatting with some friends, doing body shots, whatevs, when you feel a hand on the small of your back. You turn around and see a completely…
The Consumer Product Safety Commission's new database SaferProducts.gov has been touted as a resource that will allow people to find information on everything from recalled strollers to toasters. It may have a raunchier, but equally important use: Allowing people to investigate the safety of their sex toys.
May is National Masturbation Month! Perhaps you'd like to celebrate by purchasing a new vibrator or dildo? Whether it's your first time or you're looking to upgrade or try something new, we've got some helpful hints to assist you in shopping for a sex toy. We asked Lux from our sexy sister site Fleshbot as well as…
Guests on The View should know by now that sitting next to Joy means you're going to be touched, whether you like it or not. It's a lesson Matthew Perry learned while promoting 17 Again.