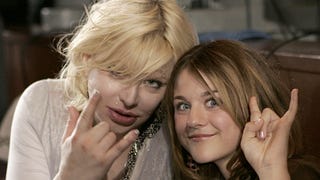 It's probably safe to say that Courtney Love is no longer part of our physical world — she's been zapped into the internet and is now a disembodied consciousness, able to communicate only through Twitter, 140 frustrating characters at a time, like Brainiac in the Superman comics...or so I've heard from people who read…
Remember when Nicole Richie was on The Simple Life? She's planning on returning to primetime TV — this time in a scripted comedy.
Spotted on a newsstand: the 10th anniversary issue of a French "urban fashion and culture" magazine called WAD, short for "We'Ar different." Because reducing a woman to bodyparts — and comparing her to food — is so original. Full-size picture after the jump.
Did Janet Jackson's exposed breast sound the death knell for women performing during the Super Bowl halftime show? The brand new Pagesix.com calls our attention to the fact that since Janet's Nipplegate in 2004, only male rockers over 40 have performed during the big game. The 2008 pick? Decrepit Tom Petty. In 2005,…