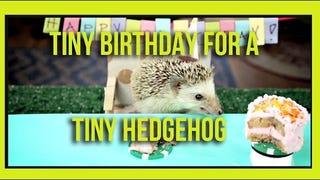 This hedgehog and his hamster pals are Team Tiny Cake (not to be confused with cupcake).
Listen, tiny hands are great and all, but they are so three days ago. We constantly need to keep evolving as a society (and by that I mean inventing new internet memes), or we are never going to survive. Thankfully, Ralph Lauren, a brand which so brilliantly manages to be classic and forward-thinking at the same time,…
Beyoncé is only two-weeks old weeks old, but so far this not-even-pint-sized puppy has cheated death four times. You see, Beyoncé's mom was a stray. She was picked up by animal control, while Beyoncé and her littermates were in utero, and they were going to euthanize the pups—but they were too far along. So, instead,…
Tiny is 3 months old and learning to walk at his home in the London Zoo. Go ahead and let your heart absolutely melt.