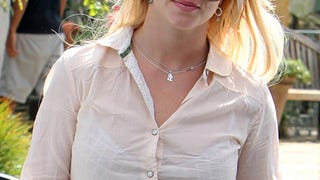 Britney Spears' conservatorship should end sometime in the next three months.
[Los Angeles, July 10. Image via Getty.]
If a man cries, he fears it will earn him ridicule—unless it's for a film role, in which case it could earn him an Academy Award. Here's a thorough supercut of boys who do cry. Ready your tissues.
Wait, what? Tim Robbins and Susan Sarandon have reportedly split after 23 years together. In the words of one People.com reader, "aaawwww too bad....really, who knew? I thought they had it going on." [People]
[New York, February 1. Image via INF]
Britney Spears's comeback includes a stop at NBC's Rockefeller Center Christmas Tree Lighting Ceremony on December 3. Will she perform? Will she push the button and light the tree? Will she ice skate? So many questions. [MSNBC]
Wait a minute: In this report, Britney says her new life sucks! "There's no excitement,…
If you weren't already aware, voter turnout is really high. That's led to some scattered problems, which will be chronicled after the jump. [Washington Post]
In the mean time, the fucking Supreme Court heard the fucking case about fucking swearing on fucking TV. They didn't say "fuck" once, so I felt like someone had…
[Cannes, May 20. Image via Splash.]
Welcome back to the Monday morning edition of Snap Judgment, in which we publish the celebrity snaps that came in over the earlier part of the weekend. Inside: Meg Ryan, Tim Robbins, Jessica Simpson, Pope Benedict XVI, Fred Savage, Kristie Alley, and Heather Graham. All those — and others — in a gallery beginning…