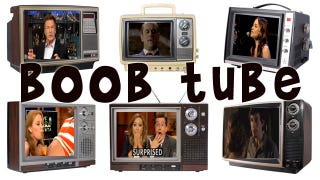 In this week's TV roundup, Detective Stabler comes to Bon Temps, Olivia Wilde charms on The Colbert Report, Fiona Apple celebrates Paul McCartney's birthday with the Roots and we say goodbye to Girls.
This is some of the best damn hand-acting you'll ever see. The good news: ! The bad news: this one is for the d0000dz.
TLC is desperate to replace Jon and Kate Plus 8, and this weekend, The Soup's Joel McHale provided a solution: a show that combines all of TLC's hit formulas in one. Clip above.
Apparently Joel McHale and the crew at The Soup are as sick of the "poor Lonely Jennifer Aniston" headlines as we are. In this clip, they create an entire magazine based on such headlines, with hilarious results.
[Miami Beach, FL. January 24. Image via WENN.]
One of the best things about Anderson Cooper is that he anchors a two-hour news broadcast every night, and yet seems to watch as much reality TV as the rest of us. Anderson filled in for Regis today on Live With Regis and Kelly and unveiled his latest D-list celebrity impersonations, Dina Lohan and the "leathah" woman…
The Onion A.V. Club interviewed The Soup host Joel McHale, who gave us some unsurprising insight into Tyra Banks' sense of humor…and her understanding of "fair use" material. Says Joel, "It's people like Tyra who don't get it and don't like [The Soup]. She's the only one that tries to stop us. 'Stop using our clips'…
Sure, we rail against expensive shit all the time. But when E!'s The Soup aired a special last night entitled "Pretty Stupid Models" and showed this faux-ad for a Kate Moss vacuum, we cursed the gods for not making it a reality. 'Cause we so want one.

In this clip from The Soup — pulled by Gawker Media's Nick McGlynn — shows Paris Hhilton at some sort of event where she's congratulating Christina Aguilera on the pregnancy Christina has never confirmed, and calls her the most beautiful pregnant woman in the world. In this instance, we think Paris actually might be…