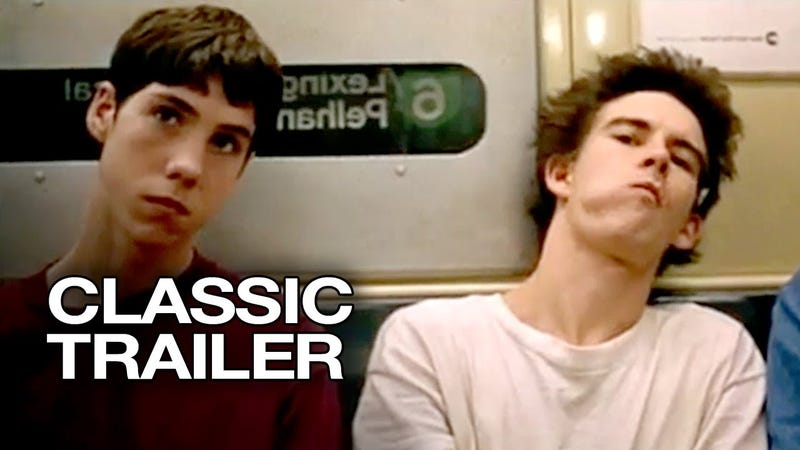 Today's the 20th anniversary of Kids, the indie film that captured a generation's ennui and launched the careers of Harmony Korine, Chloe Sevigny, Rosario Dawson, Leo Fitzpatrick. Even two decades on, it remains a powerful and astonishing document of life for mutable '90s youth.
If the resurgence of crop tops, Doc Martens and Newsies wasn't proof enough that the '90s revival is in full swing, here's the teaser trailer for "Settle Down," No Doubt's first music video since the band went on hiatus in 2004 (yes, technically that's the aughts, but I think we can all agree that the Tragic Kingdom…
Calvin Klein gave a rare public interview at 92Y this week, where he spoke with former head of New York fashion week Fern Mallis. The 68-year-old retired designer discussed addiction, his boyfriend, 21-year-old porn star Nicholas Gruber, Kate Moss, selling his company — and growing up in the same Bronx neighborhood as…
Young women develop their ability to have crushes on boys years before they develop a gaydar to help discern upon which boys crushes would be fruitless. In the gap years lies the careers of Ricky Martin and Jonathan Knight.
Last night's episode of The Simpsons was a flashback look at Marge and Homer's life in the early '90s before they were married, when Homer was in a grunge band called Sadgasm and Marge had a Melrose Place-y hairdo while attending college. The nearly didn't make it, since Marge briefly fell in love with her douche bag…
Once in awhile, by which we mean every Thursday about midway through of the New York Times, a story comes along that is so reedick, on so many levels, its preposterousness reaches a realm of stupidity we'll call metatextual, which is a word we learned (and forgot) back when we were studying for the SATs, which was —…