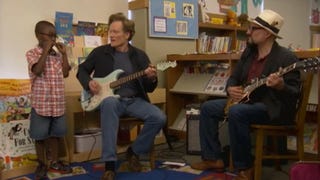 Conan O'Brien is doing his show in Chicago this week, and he stopped by a local elementary school to teach the kids a lesson in singing the blues. He asks the adorable first graders about their problems, and then crafts a song about them. The results are far more giggle-inducing than most of your standard blues, but…
The announcement was delivered by the spazzy beard itself, who told Vulture, "I wanted one word that captured my essence, and 'Oprah' was already taken."
Whitney Houston is in a Paris hospital suffering from nose and throat problems.
[Beverly Hills, March 14. Image via x17]