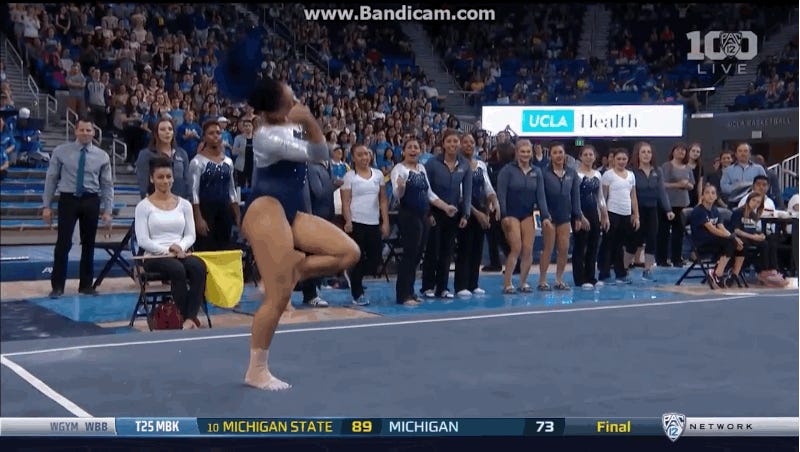 During a Saturday meet between the UCLA and Utah gymnastics teams, the Bruins squeaked out the win against the Utes, the two-time defending PAC-12 champions—in no small part thanks to senior Sophina DeJesus's insane 9.925 (but a 10 in our hearts) floor routine, helping the Bruins clinch the final event.
Companies throw themselves at celebrities with the shameless abandon of a bobby soxer at a Frank Sinatra concert. Everyone knows stars are showered with free shit, watches and clothing and shoes and bags and vacations and jewelry. The bigger the name, the more luxe the swag. But now one watchmaker is trying to claim…
The only thing worse than not being nominated for an Oscar is being nominated and then losing the Oscar. (Just kidding: There's absolutely nothing on Earth that's possibly worse than losing an Oscar.) Such psychic wounds can't be easily mended, but this year's Oscar losers will receive a modest gift bag worth $80,000.…
First, the good news: Goldman Sachs sponsored a conference with the express purpose of getting women interested in the typical sausagefest profession that is computer programming. Now, the bad news: they placated attendees of said conference with some kind of feather-rufflingly stereotypical swag: mirrors and nail…
Kim Kardashian and Kanye West have been enjoying Paris Fashion Week, and also accumulating a bunch of stuff to declare at customs. Instead of frankincense and myrrh, fancy-pants designers are offering tiny luxury outfits to the infant deity known as Baby Nori, and Kim's been posting the presents on Instagram.
Yawn. Another day, another £100,000 gold and diamond bespoke stiletto. We get it: You can make really expensive stuff. There are still some people left who are rich enough to buy it. So these diamond stilettos? They're already tired.