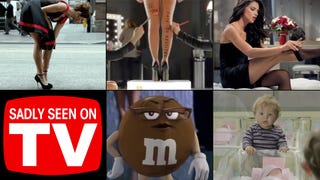 Women watch the Super Bowl, and also buy shit. Unfortunately, ad agencies don't seem to have gotten this message, if yesterday's outing was any indication — and it is, given that the Super Bowl is when brands and agencies trot out their most treasured pitches. But some efforts missed the mark most spectacularly. Let's…
Operation Rescue's Talking Sphincter-in-Charge Randall Terry is running for President as a Democrat, and he's using federal election law to force TV stations to air his graphic bloody fetus campaign ads during the Super Bowl. Will his propaganda be encouraging you to barf up your nachos on a TV near you this Sunday?…
Let's not dwell on the disturbing fact that advertisers are now trying to drum up buzz before the Super Bowl even airs. This Volkswagen ad is cute, funny, and provides an excellent idea for messing with kids.
The same batshit crazy, terrorist-rhetoric crew that brought the D.C. area 355 airings of graphic shots of fetuses is trying to take it to the next level: first nationwide, then the Super Bowl. Will it work?
Mad Men may be set in the 1960s, but not much has changed since then. 92 percent of Super Bowl ads, Madison Avenue's biggest showcase, were created by white men. No wonder that they represent such a limited worldview.
According to several tipsters, Teleflora is sending apologies and coupons to people who complained about the company's sexist Super Bowl ad, but it isn't the first time the online florist has delivered a misogynistic message.