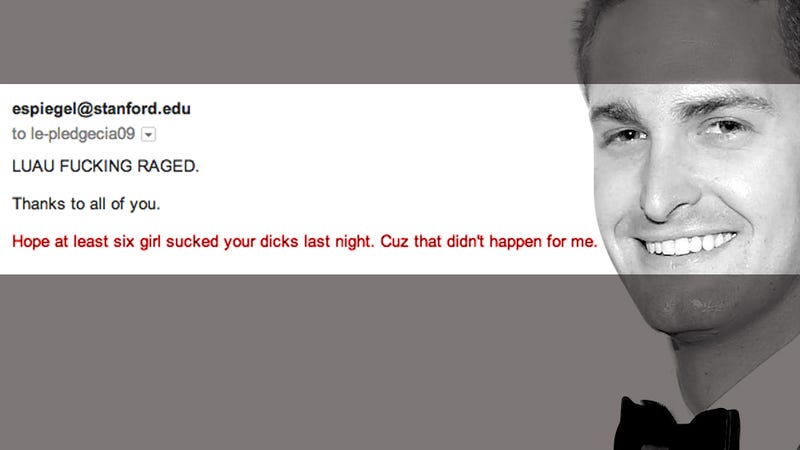 Evan Spiegel, the boyish cofounder and CEO of Snapchat, is dying to be taken seriously. He rejected Mark Zuckerberg, opines like Steve Jobs, and hobnobs with media titans. But Spiegel's undergrad emails—when he began his path to Snapchat—show a different Evan. Did Steve Jobs ever joke about peeing on girls?
Every year, freshman at Stanford University, their high school nerdstink still clinging to their strategically selected college reinvention outfits, gather on a quad to be ushered into the prestigious school's community by polite, consent-seeking upperclassmen. You'd think the tradition — known colloquially as the…
Anyone who's ever had trouble sleeping has developed elaborate theories on how and why caffeine affects them. It's usually something along the lines of, "If I drink a cup of coffee after 11 a.m. on the third Tuesday of the month, I'll be up all night." But some new research is showing that the power caffeine holds…
Have you ever tried to love someone as hard as you could for five minutes? It sounds like a strange thing to attempt, but that's exactly what the people in a study at the Stanford Center for Cognitive and Neurobiological Imaging were asked to do while they sat in an fMRI machine. They scanned people of varying ages,…

The idea that women are hardcore rocks who can withstand any amount of physical pain with serenity and fortitude has been around for a long time. After all, we have to survive monthly go-rounds with monster menstrual cramps and then many of us have to push a giant baby skull through our most delicate parts. We do…
Steve Jobs's 2005 Stanford commencement speech was already widely cited before his death — now that he's died, it's shaping up to be one of the most famous graduation speeches in recent memory, second perhaps to David Foster Wallace's "This Is Water" address at Kenyon. I graduated from Stanford in 2005, and I got in…
Last week, Harvard celebrated a record number of female students declaring a computer science major. But the school — and the field — may still have a ways to go.
For all the scholarly credit shot Kinsey's way, new research proves that Stanford hygiene professor Dr. Clelia Duel Mosher was doing it well before he was.
Despite suffering a twice dislocated shoulder in last week's game against Texas A&M, last night, Tennessee Lady Vols star forward Candace Parker led her team to a 64-48 victory over Stanford in the NCAA basketball final with 17 points and 9 rebounds. This is the Lady Vols eighth NCAA title, underscoring coach Pat…