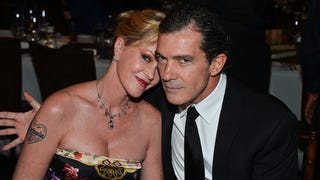 After 18 years of marriage and a couple of years of rumors about issues in their marriage, Melanie Griffith and Antonio Banderas are getting a divorce.
Welcome back to Midweek Madness! Every Wednesday, we boldly go through the pages of In Touch, Star, OK!, Life & Style, and Us, as part of our continuing mission to seek out actual gossip. This week, Ryan Reynolds and Sandra Bullock decide to get married even though they aren't actually dating, twins have taken up…
Welcome back to Midweek Madness. Every Wednesday, we board the gossip express, speeding through space and time as we read Ok!, In Touch, Life & Style, Us and Star. This week we learned that Kate Middleton's slender frame has forced Kim Kardashian to go on a crash diet for her wedding day; the lady from The Bachelorette
Crystal Harris's very first wedding — and Hugh Hefner's third — had been scheduled for Saturday, but now it may never happen. According to reports, the Playboy Playmate of the Month (December 2009) got into a fight with Hef over the phone. After she hung up, she promptly packed and moved out.
People's Sexiest Man Alive and GQ's Babe Of The Year are allegedly living apart in an "amicable" separation. We heard rumblings of discord in November. A "source" blames distance, but we all know there was just too much sexy happening.
Troy and Gabriella are no more. It's okay if you need to cry, we're all in this together. Sniffle.
Tiger's website reads: "We are sad that our marriage is over and we wish each other the very best for the future" and "our privacy must be a principal concern."
Wait, what? Tim Robbins and Susan Sarandon have reportedly split after 23 years together. In the words of one People.com reader, "aaawwww too bad....really, who knew? I thought they had it going on." [People]