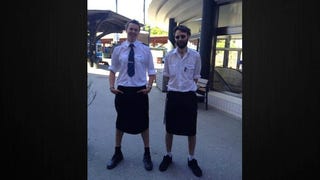 What's a guy to do in the summer when his company bans shorts? Well, if you're a Swedish train driver, the answer is to wear skirts instead.
Two weeks ago I went on a date with a lawyer at Goldman Sachs. He was 49 years old, "not handsome in the classical sense, more Jimmy Cagney than Cary Grant" as he so charitably described himself and preferred Italian suits over Savile Row's. His magniloquent and crassly funny e-mails had made me curious, so I'd…
From Media Watch comes this photo of acceptable skirt lengths for women, of which there are two. If you don't want to be harassed for being a trashy whore or chastised for dressing like a nun, you better abide.
Officials from The International Amateur Boxing Association (AIBA) nearly incited fisticuffs when they implied that the first ever Olympic female boxers will be required to enter the ring in skirts. But, calm down, Panicky Von Anxoius O'Feminista— they only might be required. Official uniforms for Olympic women's…
A French government spokesman has said that France will consider banning the burqa, "if it were determined that wearing the burka is a submissive act, and that it is contrary to republican principles." •
[Minsk, May 9. Image via Getty]
Nsaba Buturo, the ethics and integrity minister of Uganda, is calling for a
ban on the wearing of miniskirts
because they can cause traffic accidents. Buturo told reporters: "What's wrong with a miniskirt? You can cause an accident because some of our people are weak mentally." Buturo also claims that wearing a short…
Nadifo Yusuf, a Muslim Canadian woman, claims that she was
fired from her job
scanning boxes at a UPS delivery plant in Toronto because she refused to hike up her skirt above her knees. Yusuf had worked as a temporary UPS employee for 2 years, and her outfit - a hijab and a floor-length skirt she would raise to…
A woman in California who was wearing a t-shirt with the words "
lesbian.com
" was told that she could by a (privately hired) security guard who said the shirt was "offensive." • A Seattle-area grandmother found herself trouble when she to vote to demonstrate how easy it is to commit voter fraud. The charges against…
Tahita Jenkins was fired from her job as a New York City bus driver when she refused to wear pants or culottes for religious reasons in May 2007. Now Jenkins
is suing
NYC Transit for religious discrimination. Jenkins is a Pentecostal whose strict religious beliefs prohibits women from wearing pants. Jenkins refused…
According to The Guardian hips may be hip again this spring when tulip shaped skirts show up in stores. Not likely this trend will take off since women have been taming their curves for generations, but if you're tempted, proceed with caution. Tulip skirts, like last season's balloon skirts, are not for everyone.…