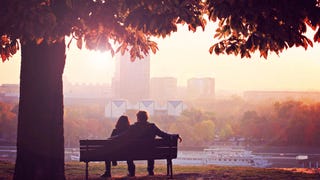 Autumn (arguably the best season) offers a cornucopia of things to be grateful for. There's the beautiful changing leaves, less humidity (read: good hair) and chillier weather that allows for long park walks and hot chocolate. Great, right? Well, too bad it's all WORTHLESS if you have no one to share it with.
This video is for all you single people who are sick and freaking tired of watching everyone around you go nuts about Valentine's Day. (Yes, I'm thinking of you guys. Always thinking about you guys.) This is the best possible suggestion for what you could do on Valentine's Day. And you'll probably have a …
Fox has just announced a new show called The Choice, which is basically The Voice meets The Bachelor meets The Dating Game. Eligible single celebrities will be seated in rotating chairs, with their backs turned to a single hopeful regular plebe. In other words, they won't see the person they're being set up with.
When you're single, hanging out with coupled friends can be awkward. You don't want to break up with your friends when they enter relationships, but you don't want to be the third wheel, either. And what about "couple-y" social functions where everyone seems to have a partner? Never fear, we have tips for you — and…
"Approximately 92% of the 174 songs that made it into the [Billboard] Top 10 in 2009 contained reproductive messages," declares SUNY Albany psychology professor Dawn R. Hobbs in her recent study about the prevalence of sex in American pop music. Are we at all surprised?
"I'm Looking For You" is a supermarket-cum-matchmaking service located in Beijing. Since opening in November, it has matched more than 50 couples. Owners say it offers a safe, comfortable environment to meet potential lovers. [Reuters]