Just as it's a good rule of thumb to avoid asking women what they're reading while they're, uh, reading, it's a good idea to avoid asking Natalie Dormer how it feels to look like a fictional pig when she's, uh, a human.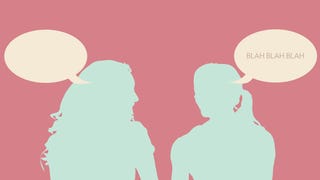 Sometimes it's just better to shut up. A situation arises, and you might be tempted to talk your way through it, in it, out of it, around it, and it's better to just…not. But if you like words and logic and being up front about things and trying to talk in a direct way and making that crystal-clear human connection,…
National Rifle Association CEO Wayne LaPierre made a speech at CPAC today in which he excoriated liberals for suggesting that arming women might not be the be-all and end-all of rape prevention. "The one thing a violent rapist deserves," LaPierre said, smirking,"is to face is a good woman with a gun!" (HUGE APPLAUSE.)…
The good news? The Hunger Games made $155 million at the box office its opening weekend, making it the third-best debut in North American box office history. The bad news, however, reflects a level of idiocy that we weren't really expecting.
They both failed, because they're both famous for things at which they fail; Sarah, somehow still a viable politician famous for failing to win the Vice Presidency and Bristol, teen abstinence activist known for failing to be an abstinent teen.
Two kids and a neuroscience doctorate down, the actress formerly known as Blossom Russo has decided to get back into acting. Obviously, as mentioned by Hortense, she called Clinton and Stacy. There was just one problem:
Feel like getting revenge on your annoying neighbors? Well now you can, thanks to the "Annoy Your Neighbor" CD, which comes with such cringe-worthy tracks as "off-the-hook phone." They'll call the cops on you in no time! [RandomGoodStuff]
Jesse Jackson used to be considered a great man and a great civil rights leader. He was considered MLK's protégé, he was the first African-American candidate to run a credible campaign for the Democratic nomination, he helped free hostages, he fought for social justice... And yet, somehow, with the United States…