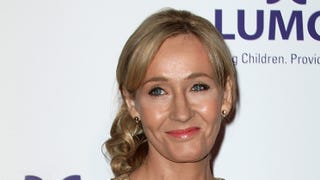 The Daily Mail is a publication that regularly produces stories. Some of these stories are fact, some of them are based in fact and some of them are not even close to fact. But when they've published stories in that last category, they have to apologize and they usually do so in a big way. Enter: J.K. Rowling's…
Silda and Eliott Spitzer have officially gone their separate ways, but newly leaked documents reveal that Silda left the relationship with a $7.5 million lump sum, an additional $240,000 a year until she remarries or dies and a strict order not to talk to the press about the relationship.
Condé Nast has settled their intern lawsuit for an undisclosed sum. We get nothing: no dramatic court depositions, no angry emails, no intel on what kind of cushy lives those who sued will get to lead from now on and definitely no novels that will be eventually be optioned into movies starring Meryl Streep. Sigh.
On Monday, Penn State University announced that it would awarding $59.7 million to 26 men who were abused by Jerry Sandusky, a settlement that came after a year of negotiating. The Sandusky scandal has been an expensive one for the college; that nearly $60 million is in addition to more than $50 million they've spent…
On Friday, the Orlando Sentinel reported a new development in the case of Trayvon Martin: Martin's parents have settled a wrongful death claim that is believed to be worth more than $1 million against their Sanford subdivision where Trayvon was shot and killed by self-annointed sheriff of suburbia, George Zimmerman.
Some sources are now saying that Nafissatou Diallo's lawyer tried to make a deal with Dominique Strauss-Kahn's defense team, offering to help get criminal charges dropped in return for a civil settlement. DSK's lawyers refused. If true, this revelation likely won't help Diallo's case — it might sway a jury to believe…