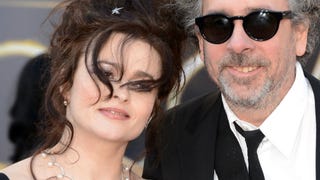 We've said it before once or twice, but this time we mean it: Love. Is. Fucking. Dead. After 13 years of unwedded bliss and admirable mutual eccentricity, Tim Burton and Helena Bonham Carter have split up. A rep for the couple tells People magazine the two "separated amicably earlier this year." This isn't about us,…
Silda and Eliott Spitzer have officially gone their separate ways, but newly leaked documents reveal that Silda left the relationship with a $7.5 million lump sum, an additional $240,000 a year until she remarries or dies and a strict order not to talk to the press about the relationship.
It appears that Dominique Strauss-Kahn's wife has had enough of standing by her man—it's being reported that she tossed DSK out of their apartment in Paris about a month ago and they are now living separately. Anne Sinclair, who is a journalist and wealthy heiress, has been married to DSK for 20 years. It's possible…
Our beloved constant companion Rick Santorum took to ABC's This Week with George Stephanopoulos this morning to expound offensively a number of topics, but perhaps his most shining moment was when he took very relevant political force John F. Kennedy to task for his 1960 remarks on the separation of church and state.…
Scientists sure do love their stressed-out baby animals. Yesterday we learned about the dangers of marrying a stressed zebra finch — and today a study reveals that baby monkeys who endure scary separations from their moms can feel the ill effects throughout life.
Another celebrity breakup: Christina Aguilera and Jordan Bratman reportedly separated several months ago. "It ­became clear they were more like friends than husband and wife," says a source. They were married for five years and have a two-year-old son, Max.
Apparently, couples who separate — but don't divorce — are a common modern phenomenon.Omaha Sage Warren Buffett, Jann Wemmer, and Willem de Kooning all fall into this "It's Complicated" category.. [NYT]
The eminently reasonable Hanna Rosin, whom you might remember as the journalist guinea pig who agreed to stay within 15 feet of her husband for 24 hours, is dismayed by an O: Oprah Magazine article called "Divorce Dreams" by New York Times scribe Ellen Tien. And Rosin is piqued for good reason: Tien says some…