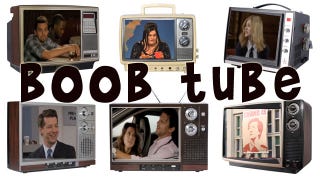 In this week's TV roundup, the premiere of GCB, Springfield is Westeros in The Simpsons opening titles, the most awkward serenade on Smash and the return of an old young nemesis on 30 Rock.
And it happened in the first three minutes. Jesus, Sean Hayes. Girl needed to let off a little steam. Give her a…
Today in Tweet Beat, get inside the mind of Paris Hilton. Also, Amy "Long Island Lolita" Fisher unfollows The Situation because she thinks he's a whore.
Were you aware that celebrities sometimes kiss onstage to get attention? From Kristin Chenoweth and Sean Hayes, to Sandra Bullock and Scarlett Jonahnsson, to Miley and some dancer, stars can't stop exchanging loveless liplocks! But what does it all mean?!
We obviously have a long way to go in any honest conversation about sexuality and pop culture — sparked recently by the Newsweek article doubting gay actors can play straight. Curiously, actors seem to get it more than Newsweek does.
Jim Carrey's daughter, Jane, gave birth to a son named Jackson Riley Santana, which means that Ace Ventura is someone's grandfather, which means that I'm getting old. I'm also looking for Ray Finkle. And a clean pair of shorts! [People]