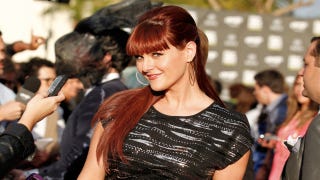 Actress Sara Rue will be marrying longtime fiance Kevin Prince in a beachside ceremony today...that will also include beer pong:
Good Housekeeping's Annual Shine on Awards honoring remarkable women at Radio City Music Hall had no shortage of, well, remarkable women. And naturally, there were clothes to match.
Goldie Hawn, typically playful. Heather Graham fully commits to the blush trend. Loving Rebecca Romijn's bold take on old-school…
We had to watch the promo for Shedding For The Wedding a few times to make sure our eyes and ears didn't deceive us. And, sadly, they didn't!
Sara Rue seems pretty happy about losing 50 pounds in 35 weeks on the Jenny Craig program. So why does her latest commercial seem so sad?