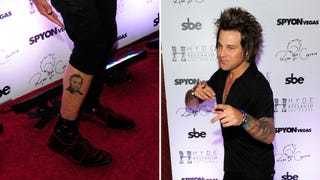 People take tattoos seriously to varying degrees. Some think that anything you commit to your skin forever should have a significance, others think that it should just be visually appealing and then — way out there on the fringe — there's sort of-celebrity Ryan Cabrera who got Ryan Gosling's face tattooed on his calf…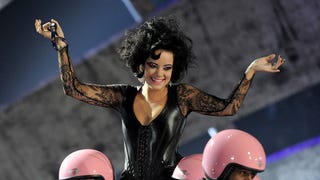 At a NME Awards party last night, Courtney Love and Lily Allen were chatting when suddenly things, "turned really nasty, really aggressive and bitchy," according to a witness, and the two had to be pulled apart by their entourages.
Mischa Barton has been filming a guest spot as a hooker on Law & Order: SVU, and a source says her one scene took 10 hours.
According to the New York Daily News, insiders are claiming that Joe Francis was behind the now-infamous Casey Johnson and Tila Tequila engagement video, which, they claim, "was designed to hype Tequila's Francis-financed Web site." [NYDN]
Yesterday afternoon the police were called to Mischa Barton's home to help with a "medical issue." Now a source says she's been placed under involuntary psychiatric hold.
Mel Gibson "completely lost it" this weekend, according to a fellow churchgoer, who said he stood up in front of the congregation and "paced back and forth, furiously telling the congregation that he would not stand by and be judged and scrutinized."