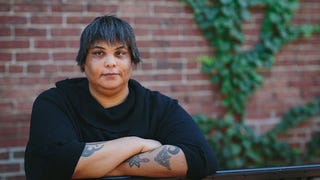 If you are a woman or a person of color or both (as are many of us here at Jezebel, as is feminist darling Roxane Gay), your default experience of the internet is likely to be one of harassment. But for others, namely a certain set of writers who overwhelmingly happen to be white and male, the prevailing struggle…
Heads up: Roxane Gay — acclaimed author of (this year alone) Bad Feminist and An Untamed State, essayist, professor, prolific and sage tweeter and all-around feminist inspiration — will be here taking your questions at 2:30 pm ET. Prepare yourselves!
Roxane Gay, author of Bad Feminist, documented her experience of racial profiling at Best Buy. Didn't see a storify and I don't want to link to every tweet, so i screencapped it. She adds some more context (location, thoughts) in her twitter. She's worth a follow if you don't follow her already.
It's truly daunting how many books flood the shelves every month. So going forward, we're going to comb through the catalogs and pluck out some promising titles for the book lovers out there. Plus, this is an opportunity for you to share what you're looking forward to. What've you already preordered?
Roxane Gay had a great article in the Wall Street Journal yesterday about the increased representation of plus-sized women in movies and TV shows. I wish I could just print it here for you in its entirety (you should really just go read the whole thing), but here are my favorite bits:
Journalists are conflicted about Jonah Lehrer, judging by the number of frantic Gchats and emails I received from my peers yesterday after Michael C. Moynihan broke the news in Tablet that the 31-year-old wunderkind science writer, already under fire for extensive "self-plagiarizing," attributed numerous fake quotes…