Scientists try and fail to contain a highly evolved test-tube creation in the trailer for the sci-flick Morgan.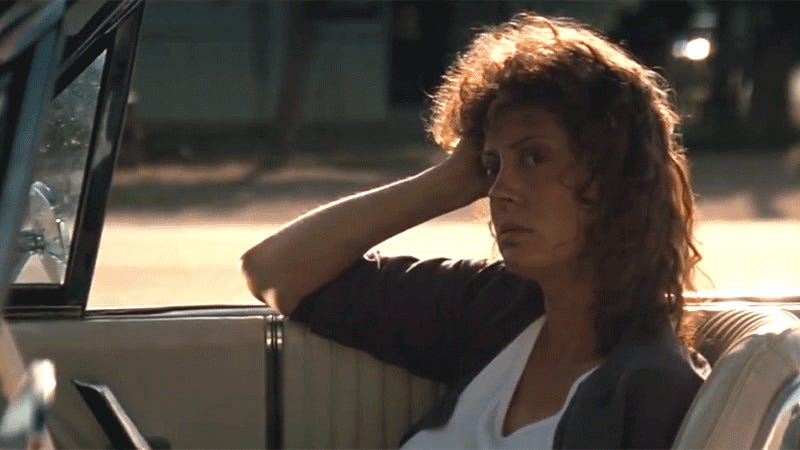 Ridley Scott's Thelma & Louise was released in theaters on May 24, 1991, which means its been exactly 25 years since Geena Davis (Thelma) and Susan Sarandon (Louise) decided to "just keep going" and drive their Thunderbird into the Grand Canyon. But though the movie is probably best known for that tragic final scene,…
Hollywood continues to dismiss the whitewashing in Exodus: Gods and Kings, which is a film starring Christian Bale as Moses that opens this Friday. The questionable casting rightfully earned an automatic boycott from some moviegoers. Bale, who hardly cares, danced around the issue at the film's New York premiere.
Okay. My best guess about Taylor Momsen's kohl-smudged descent into "the dark side" (at least, as dark as a 19-year-old television actress in a totally like, "XXhardXcoreXX" rock band can get) is that Gossip Girl costume designer Eric Daman put one too many hair extension tracks onto her head and it snapped her…
Mariah Carey is furious at American Idol execs for courting Nicki Minaj as a possible judge. Apparently she was under the impression that she would be the only woman on the panel, and insiders say that a two-vagina judging panel would certainly throw viewers for a loop, so it's obviously all still in talks. Because…
Thirty years ago, moody sci-fi film Blade Runner hit theaters, with Harrison Ford and Sean Young as the stars of a robot-human tale set in a dystiopain futuristic Los Angeles. The story, loosely based on the Philip K. Dick novel Do Androids Dream of Electric Sheep?, will soon get a sequel, director Ridley Scott says.…
Trailer here. In addition, you get the terrible feeling that no one is going to sing "Oo-de-lally, golly what a day." [Buzzfeed, FirstShowing.net]
The Tiger Woods case may be closed, but a Los-Angeles based cocktail waitress, Jaimee Grubbs, is telling Us Weekly that she had a 31-month fling with Tiger. And:
Here are leaked pictures of Lindsay Lohan's spring campaign for 6126. The images were shot by reality-TV-star photographers Markus Klinko and Indrani. [Gone Hollywood]
Tom Cruise, Katie Holmes and Suri Cruise were surprise guests at a "massive" Scientology party in England last week.
The plot: while immersing herself in the local culture, Kidman gets thirsty and even the adorable Rubina Ali and Bollywood star Argun Rampal cannot keep her from her beloved Schwepps... we think. One would think producer Ridley Scott and Oscar-nominated director Shekhar Kapur could put together a one-minute soft drink…
Geek girls out there, prepare to wet yourselves: Jon Hamm is a self-proclaimed sci-fi, video game and comic book nerd. The Observer caught up with Jon outside the premiere of The Day The Earth Stood Still and witnessed this adorable exchange between Hamm and his girlfriend, Kissing Jessica Stein's Jennifer Westfeldt:…
Kate Moss: Looks sexy in new Donna Karan ads. Donna Karan: Guest judge on Project Runway tonight. That is all. [WWD, 1st item]