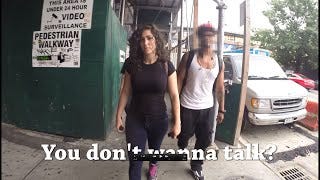 Well, it's fucking depressing to say it was bound to happen but considering the state of the world, it really was: the woman who starred in Hollaback's viral street harassment video has reportedly been getting rape threats in the comments of the video on YouTube.
Yesterday, the internet was abuzz and a-head-shake with news that several fans of Chris Brown expressed their adoration of the star by Tweeting that they'd let the convicted domestic abuser hit them in the face. Some concerned people even took it upon themselves to teach those female internet users a lesson about…
Journalist Amy Miller of the Alternative Media Centre was arrested over the weekend at the G20 protests in Toronto. She was held for 13 hours, during which time she saw multiple women strip-searched and was repeatedly threatened with rape.