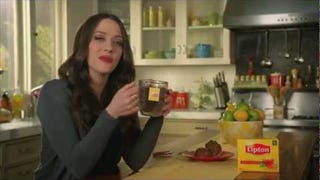 Kat Dennings "was in a rut." She needed something "to brighten her day."



And yoga. And gardening. But Lipton was the only thing that made her feel better. THE END FIN SCENE ETC.
After three decades, most high school rings wind up ratting around the bottom of a jewelry drawer, but Karen Price Liebisch says she's excited that her class of 1975 ring has been returned 36 years after she lost it at Northwest High School in Ohio. Liebisch recently received a letter school saying the ring she…
What happens when you drop a cube of red gelatin onto a flat surface? This slo-mo video — recorded at an impressive 6,200 frames per second — will show you exactly what happens. Magic, that's what.
"Dancing long-haired dog repairs grade school boy's broken heart with help from crunchy and possibly drugged snack foods" is just one of several titles I tried out for this video. But really, just see it for yourself. [BuzzFeed]
The Sarah Palin Hair Watch continues over at Wonkette. Is it a wig? Is it front-bump it? Did someone just want to relive her pageant days and overdose on the hairspray? The world may never know. [Wonkette]
According to her owner: "She's mean. REALLY mean." Also: She bites. [Known By Name]
A missive from our intern, Anna N.: "So I read through O magazine yesterday, and then happened to be talking to some friends about La Disparition (or A Void) the French novel written without the letter e. This gave me the idea of rewriting portions of O magazine without the letter o. It's actually pretty hard. Observe…
Snoop Dogg singing in German for a cellphone (?) commercial. Click the picture to see. [AdAge]