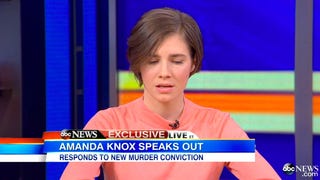 In a highly emotional interview with Good Morning America's Robin Roberts, Amanda Knox said Friday that she would fight her guilty verdict "to the very end," a sentiment she'd shared when it was first announced her case would be retried.
Thanks to the redundancy/thoroughness of the Italian legal system, there will be a third volume of Hard Knox Life, most likley minus its main character. On Tuesday, Italian Supreme Court judges ruled that Amanda Knox, along with former boyfriend Raffaele Sollecito, should stand trial yet again for the death of her…
Say what you will about Russell Brand, but he certainly knows how to keep himself in the news. The comedian, who's had many a brush with the law in the past, was arrested today in New Orleans, following an incident on Monday in which he is accused of grabbing and throwing a photographer's iPhone through a window. Tsk…
Those of you who were waiting with bated breath for Amanda Knox and ex-boyfriend Raffaele Sollecito to pen dueling memoirs will rejoice at the news that both have acquired literary agents. According to TMZ, Knox has signed with Robert Barnett, who has also represented a bipartisan slate of political memoirists…
Amanda Knox has kept a low profile since she was freed by Italian courts, but now Raffaele Sollecito, her co-defendant and former boyfriend has decided to add more fuel to the media hysteria by gushing about Knox in the Italian magazine Oggi. He says, "We need each other — we speak to each other on the phone and write…
The murder trial of Amanda "Foxy Knoxy" Knox, the 21-year-old American student accused of murdering her study-abroad roommate in Perugia finally started this morning in Italy.
Despite a
distinct lack of hard evidence,
Seattle native Amanda Knox, 21, will stand trial for the murder of her study abroad roommate, Meredith Kercher, in Perugia, Italy. Yesterday, after 12 hours of deliberation, was convicted of Kercher's murder, and sentenced to 30 years in prison. Guede was tried separately…
After she languished in an Italian prison for nearly a year,
the hearing
of Amanda Knox, 21, an American student accused of murdering her British study-abroad roommate in Perugia, is finally underway. According to the , Prosecutor Giuliano Mignini alleged that Meredith died as part of "some kind of Satanic rite, with…
Amanda
"Foxy Knoxy"
Knox, the American accused of murdering her study-abroad roommate Meredith Kercher in a was in court yesterday, out in public for the first time since she was accused of Kercher's murder late last year. Today's court appearance was an initial hearing, and the judge will probably hold six or seven…
Alleged murderess Amanda "Foxy Knoxy" may be (a lot) less guilty than she once seemed. According to new evidence, Knox, an American who was studying abroad in Perugia, Italy, may not have killed her roommate, Meredith Kercher, by, as stabbing her and leaving her to "choke to death on her own blood following a bout of…
Still in a tryptophan induced post-Thanksgiving coma? Here's some new info on two potentially murdered white women to wrench you from your turkey stupor. (We'd report on missing black women, but it's hard to do so when the mainstream media doesn't seem to give a shit!) Stacy Peterson (pictured), the missing Illinois…
This Meredith Kercher murder is a Lifetime movie waiting to happen. For those of you not following the case, Meredith Kercher was a carefree, 21-year-old Brit studying abroad in Perugia, Italy. She lived in a cottage with 20-year-old American Amanda Knox (also comely!) who is currently sitting in jail for her possible…