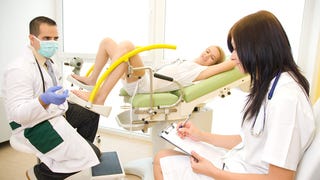 A Redditor who posted a question about what gynecologists can tell about their patients "lifestyle" from an examination probably didn't expect to get science dropped on them by actual MDs. The question which appeared on the site 18 hours ago asked the site's resident gynecologists to reveal all about what the redditor…

If it's Sunday, it's time for another heroically delusional morning news show performance from our favorite GOP gal, Michele Bachmann. This time she faced off with Christiane Amanpour on This Week. Strangely enough the two women are wearing almost the exact same outfit, which makes this appearance rather like an…
Are you curious about ball maintenance? Wet dreams? Men's opinions on the so-called "he-covery"? Whether your concerns are high or low, you now have the chance to poll our carefully selected stable of anonymous guys on a topic of your choosing. You ask, they'll answer, and we'll report back. But first you need to ask!
We often highlight the astoundingly bad emails dudes can spit out. But obviously not all guys are bad email apples; some, in fact, know how to put the internet to very good use. Like the fellow who asked Jezebel to deliver a special message to his girlfriend.
Back at your computer after a long weekend of cooking and dealing with your family? Put off work a little longer by telling us what topics Social Minefield should tackle in the future!
• A pair of goodwill pandas arrived in Taiwan from China on Tuesday, a sign of improving relations between the two countries.•