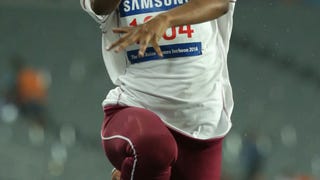 Oil-rich Doha, Qatar, was awarded the 2019 Track and Field World Championships by the IAAF, winning out over Barcelona, Spain, and Eugene, Ore. The 10-day event draws the third-largest TV audience of any sports event, behind the summer Olympics and World Cup soccer.
Ok, I'm sorry, but I don't understand how you could look at this stadium and think anything but "giant vagina." I am trying. But I cannot see anything else! However, the building's architect, Zaha Hadid, disagrees. "It's really embarrassing that they come up with nonsense like this," she told TIME. "What are they…
Last Monday, the architectural firm behind the stadium being built for the 2022 World Cup in Qatar released a short animation to reveal what the stadium's design will eventually look like — and what it will look like, turns out, is a giant metal vagina. Of course, that's no cause for uproar. As my coworker Callie…
In preparation for the 2022 World Cup in Qatar, the architectural firm responsible for the stadium's design has released a short animation revealing their future plans. Any discerning human will be quick to recognize that the building looks exactly like an enormous vagina.
The biggest fish in the art acquisition pond is Sheika al Mayassa bint Hamad bin Khalifa al-Thani, the 30-year-old chairwoman of the Qatar Museums Authority and a sister to Qatar's new emir (and daughter of the former). Her recent buys include pieces by Rothko, Damien Hirst, and Paul Cézanne's Card Players — for…
[Qatar, September 28: Elizabeth Simmonds of Great Britain in action during a training session at the British Swimming holding camp in Doha, Qatar. Image via Getty.]
[Doha, Qatar; October 28. Image via Getty]
[ATP Qatar tennis open in Doha, Qatar, January 6. Image via AP.]
The Sony Ericsson Championships, the season-ending event of the Women's Tennis Association, is being held in the Middle East for the first time this week. Billie Jean King, who helped found the WTA Tour, says that she believes by holding the event in Doha, Qatar, tennis can help bring change to a region where women's…