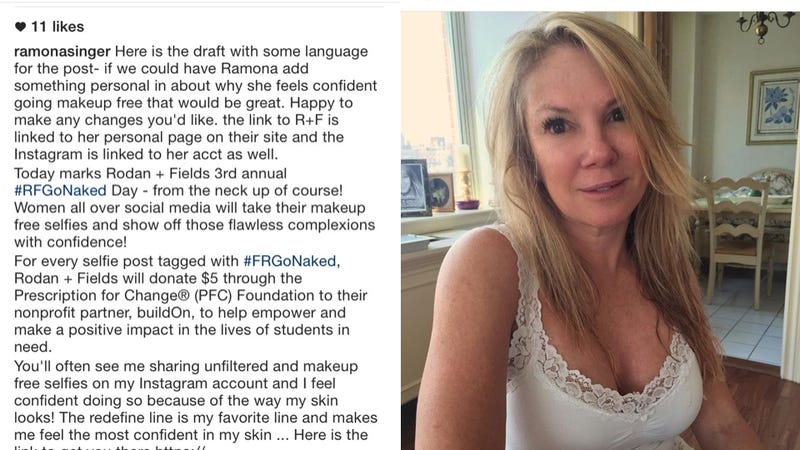 It seems like it was just a matter of time before our friend Ramona Singer joined the ranks of celebrities who cannot manage to properly read their sponsored content emails.

Jennifer Lopez's new video for "Ain't Your Mama" includes the voices of Gloria Steinem, Patricia Arquette and Hillary Clinton speaking about women's equality. And, according to a new report, it also includes a good deal of product placement—much of which was needed to support Lopez's expensive vision for the video.

Are you experiencing Award Season Withdrawal? (It's a real thing; I don't care what my stupid doctor says.) Jonesing for another round of guessing who is or isn't going to be a big winner, but sick of seeing all those gosh darned movie stars showing off all their fancy attire? Then do we have something for you—the…
Product placement on TV doesn't always have to be that awkward moment, say, when a meth-addled character wakes up in the morning, putters into the kitchen, opens the pantry, grabs a box of Honey Smacks, holds it so that the viewing audience gets an obstructed view and announces, "Gotta have my Smack...s" [Laugh…
Though you probably need another celebrity sex tape like you need a hole in the head, the newest entry into the canon, starring Eva Mendes, is an instant classic. Because one can never have too much duct tape.
What have the end of the luxury boom and the rise of free Internet media meant for fashion magazines? Mostly, they're looking for new ways to sell you shit, this time with less pretense.
Mirela Gradinaru, 37, would not tell doctors how the hairspray got into her rectum, which, apparently had a lot of hold (no word on shine, though). Surgery was required to remove the object. [The Sun]
Back in February, Prada debuted Trembled Blossoms, an animated film that used creepy psychedelic imagery to push purses on hopelessly hypnotized fashionistas. Get ready to trip again: Prada has a new movie, Fallen Shadows, which features music by Antony & The Johnsons and makes little sense. Thank goodness we're here…
A not-so-shocking prediction: Sex and the City: The Movie is going to be as much (if not more) about shilling expensive shit as it is about sex. In addition to the myriad of product placement opportunities it affords mainstream marketers, the film has inspired a new collection of Cosabella lingerie said to be designed…