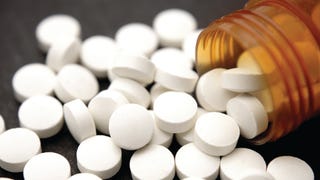 You would think that most parents are smart enough to know that their prescription medications' "keep out of reach of children" warning isn't to be taken lightly, but maybe not. Doctors are reporting an increase in incidences of children being brought to the hospital after getting into their moms' and dads' pill…
The prescription serum Latisse is going to be tested on patients with alopecia. For some reason we're picturing lashes on their heads, which surely isn't an option. Right?
If you know Lisa Carver's writing, you know she's all about owning her experience. The only one she's ashamed of? As she tells Salon, her unglamorous dependence on prescription drugs. As a pill-popper, her account leaves me with mixed feelings.
Heath Ledger's death has been ruled as an accidental overdose of prescription drugs by the New York City medical examiner's office. The toxicology report shows that Ledger — who passed away on January 22 at the age of 28 — took a lethal combination of six different painkillers and anti-anxiety medication including…