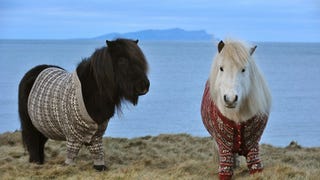 When I look at these Shetland ponies — in handcrafted sweaters by local Shetland knitter, Doreen Brown, no less! — I emit an "awww" that lasts about an hour or so. However, I just showed the ponies to a friend and she said "Them horses aint right."
Once upon a time in Surrey, England, after (one would assume) living in a stable of sin together for quite some time, two ponies were joined together in holy matrimony. "I brought a present as well," says one sheepish guest. "It's rather embarrassing. But I'm into the spirit of it." A wedding sans in-laws where…
A handful of Staten Island shoppers got a cool surprise today when a pony and zebra ran unaccompanied through a local parking lot. They were pursued moments later by the handlers that were attempting to capture them. The pair ultimately were caught and returned to captivity, but don't be fooled. This is real life…
When you make fun of crap on the internet for a living, you learn incredibly surprising lessons about the utter touchiness of strangers. Hypersensitivity to the point of acting like a dick about it is not only unwarranted, it ends up ultimately doing the overreactor's cause an injustice, as reflects poorly on the…
Rafalca, Mitt Romney's frou frou Olympics-bound dressage horse, nets the family a $77,000 tax credit per year. Since Normals who produce mere human children only get a $1,000 tax credit per child, it therefore stands to reason that Rafalca Romney is worth 77 human children. Certainly more than your entire family.
In a world where ponies run free on rainbows, spreading joy and sunshine wherever they go, there's only one creature who dares to rain on the pretty pony parade: Unicorn, Destroyer Of Ponies. It's time to get magically vicious! [BoingBoing]