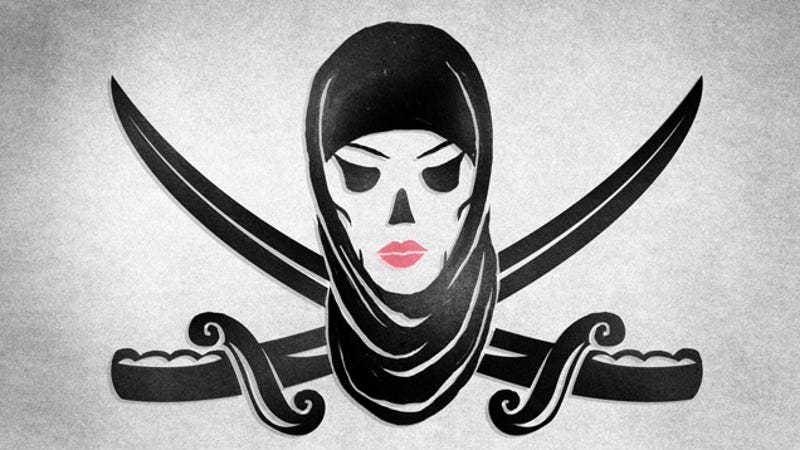 The phrase "Muslim woman" evokes a wide variety of images today, many of them dangerously prejudicial; one image that's not conjured up nearly often enough is that of an independent and beautiful woman who had the King of Morocco in the palm of her hand—and also controlled much of the western Mediterranean Sea with…
You're on the sun-soaked deck of a ship, wind in your hair, salty air in your lungs, the ocean before you, a crew and all their movements yours to command. This freedom is what we love about pirate stories, more so than the rum and the treasure and the sea shanties: the type of freedom that frees you from traditional…
Making quibbles about the historical accuracy of a fantasy pirate book about seems about as valuable a use of one's time as getting into a heated YouTube comments section argument with a user named SouthIsRizing about whether or listening to "Dixie" is racist (also, what are you doing listening to "Dixie" on…
This is a dog dressed as two pirates carrying a treasure chest. Via Twitter.
Sorry, Johnny Depp! Sandra Bullock and her son Louie took first place when they dressed up today for a pirate-themed birthday party at a park in Brentwood, CA. Images via Bauer-Griffin.
• Carey Lockhart-Davis, aunt of murdered North Carolina 5-year-old Shaniya Davis, is furious that the alleged rapist and murderer is being treated decently in prison. She told the Early Show:
It's Talk Like A Pirate Day once again, mateys— not to be confused with Talk Like A Vampire Day, wherein you have to follow your friends around telling them they are your own personal brand of heroin. [LATimes]
Look, mateys. I love pirates. We all love pirates. So much so that the Pirate Mania that's been kicking around this country for the past 5 or so years is starting to get pretty damn tired. Yes, we all love Captain Jack Sparrow, but as Halloween rolls around once more, the abundance of Faux Jacks running around our…
In honor of international
talk like a pirate day
, the remainder of this list will be conducted in . Thank you for yourrrrrr support, landlubbers.
Tim Gunn is taking some conflict-of-interest heat regarding a recent column he wrote OK! magazine. (Tim writes for OK!? How declasse!) When advising a reader about what jeans are best to fit most bodies, he steered the reader towards Liz Claiborne and Lucky Brand. Funny thing is, Gunn just happens to be the Chief…