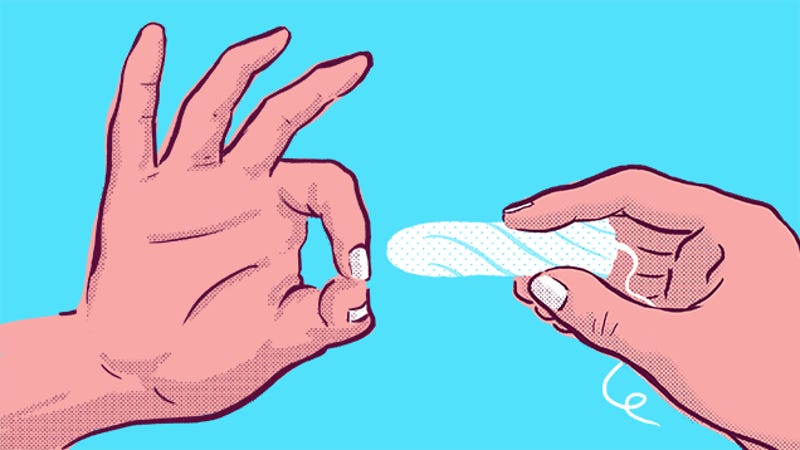 How many women get super turned on right before or during their period, contrary to all the logic they have ever been told their whole lives about when they should feel the most rarin' to go? It is hard to say, but it is enough that a Google search produces lots of women who've asked the same thing.
Yesterday, an undergraduate at Houston, Texas' Rice University asked the advice columnists at The Thresher, Rice's student paper, whether she should try period sex. "I read in "Cosmo" that 62 percent of men would be willing to have period sex," she wrote. "I'm interested but skeptical, especially about how my…
Recently, I complained of my monthly misery, seeking help — and thank you, seriously, for getting all up in my uterus. Thanks to all of your suggestions, we now present the ultimate guide to curing your cramps!
An article in Cardinal Points, the SUNY Plattsburgh student newspaper, confirms what we've always suspected: that dudes who won't have period sex kind of suck.
It's time for another installment of
Pot Psychology
, the "advice" column in which we attempt to solve everyone's problems with an herbal remedy. (Remember, kids: Don't do drugs!) In this episode, the Big Edie to my Little Edie, , helps me answer questions about anal, vaginal, and oral sex. Got a burning question? Send…
It's time for another installment of Pot Psychology, the advice column in which everyone's problems are solved with an "herbal" remedy. (Remember, kids: Don't do drugs!) In this episode, my friend till the end, Rich, helps me dole out advice on stuff like lactating, cream pies, and male virgins. Got a burning…
A bunch of "party girls" went on Tyra to talk about their heavy drinking and late nights out, but Tyra turned it into a therapy session of rehab, with counseling from Dr. Drew and reformed porn star Mary Carey, acting as sponsor. We were supposed to view the three party girls as having serious problems, but one girl,…
WARNING: The following is a really, really gross story. It may even qualify as "beyond gross." It also: signifies nothing, gives you wayyyy too much information, and is told by a total idiot. Its sole redeeming trait is that it involves a scenario we've all feared before — the one where you get a tampon stuck up…
About ten of you have emailed from Esquire about the things a man should never do in the company of a woman, like cleaning your gun or talking about the girls you used to fuck or "rapping" or blow-drying their hair. It's fun but not incredibly accurate; most of the dealbreakers, like calling a girl a "whore" in a way…
It's time for another installment of Pot Psychology, the advice column in which everyone's problems are solved with an "herbal" remedy. (Did we mention? Don't do drugs!) Gawker Media videographer Alex Goldberg filmed my answers this time, so I wouldn't have to deal with typing. Talking actually seemed just as…
On Saturday, some of the Jezebels went to brainstorm over S'mores at a coffee/sandwich shop, when, who should appear but Dr. Ruth. She shuffled by our table, all 50 inches of her — seriously, girlfriend is short! — and Anna was the first one to spot her. I was like, "Guys, I have to get my picture with her!" Anna…