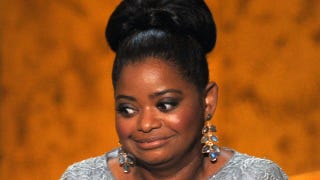 Quoth the actress to Ellen: "I triple-Spank. Which is not good. Spanx really, really work, but you don't need to overdo it." She also recalled a recent conversation with pal Melissa McCarthy: "I could not party that night because I was being pinched in places that I didn't know it was possible… I said, 'Oh my God,…
The number of Americans hospitalized for dog bites nearly doubled between 1993 and 2008. Nobody knows why! People have tried asking the dogs what's up, but the dogs just go "woof woof" or some-such. Not much info to go on.
A woman named Audy just had foot surgery. A doctor dislocated Audy's toe, sawed out 2-millimeter chunk of bone, then inserted a titanium rod to bring the shortened bone back together. Why? So Audy can wear cute high heels.
With all those flowing and feathery outfits and graceful twirls, ballroom dancing certainly looks lovely. But real-life dancer Hanna Louise Annetts tells us not to be fooled by all that elegance and class for-show: the culture is nasty and sexist.
A Canadian tourist was napping on a New Zealand beach when he suffered a spider bite in a very unlikely place. The man soon discovered that he had been bitten by the venomous katipo. He has fully recovered. [Times]
Prepare to cringe: A 31-year-old woman in Brisbane, Australia says that she contracted peeling burns in her "intimate areas" after a disastrous Brazilian bikini wax. The aesthetician who allegedly botched the waxing session had to be prompted to close the blinds and asked the customer how to do the wax when the…
Here in New York City, a man has filed a suit in Manhattan Supreme Court against a strip club after an employee allegedly poked him in the eye with her high heel during a lap dance. Stephen Chang claims he "sustained serious personal injuries" in November when the stripper "suddenly swung around, striking [him] in the…
According to the New York Daily News, President Teddy Roosevelt's novelist granddaughter, Theodora Keogh, died recently in North Carolina at the age of 88. Her obituary in a UK paper notes: "After [her second husband, a tugboat captain] left her, she lived at [New York's] Chelsea Hotel, where she kept a margay (a…
[New York, January 31. Image via Splash.]
Goth was all dark and bloody, but post-Goth? That would be Kegadoru, or "injured idol," a new Tokyo fetish-fashion craze. Girls wrap their heads and bodies in bandages — and eyepatches — for that "damaged doll" look some guys apparently love. (Guys who liked the torture porn film Hostel, perhaps?) White bandages are…
A Florida woman decided that the best way to keep her 13-year-old daughter from fooling around with boys was to forcibly pierce her genitalia, so as to make sex uncomfortable. She also shaved the girl's head in an attempt to make her less attractive. Child welfare officials were called in to intervene after the…