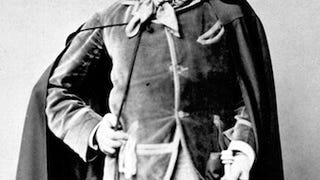 Five letters in which Oscar Wilde "propositions" magazine editor Alsager Vian will be auctioned later this month in London. Alan Judd from Bamfords auction house says the letters, "help to fill in pieces of Oscar Wilde's tempestuous jigsaw."
Today, Obit's Judy answers the plea of a teen who just wants to shout for joy now that a mean school principal is dead. Judy's advice was way too reasonable, so we asked a bunch of random dead people!
A woman wrote into Obit's "Ask Judy" with a real problem: an airline ruined her first-class flight with a dead body, and refuses to give her a refund! Given the subject, we thought we'd better ask some dead people!
This week, a concerned citizen wrote in to Obit's resident sage, Judy, with a question of doctrinal import. Judy took care of rational advice, so we thought we'd ask a bunch of dead people!
The writer may have asked The Spectator's "Mary." We asked a bunch of dead people!