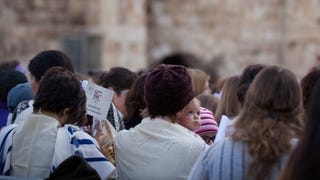 Critics of the Women of the Wall—female Jewish advocates of the equal right to prayer at the Western Wall by reading aloud from the Torah and wearing the religious garments of tallitot and tefillin (considered traditional for men only)—assume that it's comprised entirely of female Reform Jews. However, some feminist…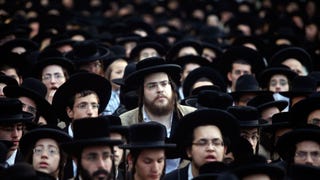 Feeling tempted by scantily-dressed women on the bus, or sexy billboards by the side of the road? If you're an ultra-Orthodox man in Israel, you're in luck: you can now buy special blinders to prevent sin-enticing images from sneaking into your peripheral vision. As the Times of Israel reported yesterday, an…
The owner of the B110 bus in Brooklyn, which runs between two Orthodox Jewish neighborhoods in Brooklyn, insists that despite the fact that women have been told get in the back of the bus for decades, it never condoned the practice. However, since everyone got so riled up about passengers telling women where to sit on…
Rabbi Menachem Burstein, head of the Puah Institute, a Jewish fertility organization, has declared that "there is not one rabbinical religious authority in the world allowing a single woman to give birth." (God apparently doesn't count.) Why?
[Jerusalem, June 8. Image via Getty]

Tova Hartman is challenging some of the tenets of Orthodox Judaism by founding a traditional Orthodox synagogue that allows women unprecedented rights.