Hello everyone, I am here to ruin your week by telling you the most tragic thing you've ever heard (there's like, a very small bright spot at the end, but still). On Tuesday, U.S. Secretary of Health and Human Services Kathleen Sebelius determined that she would not intervene in a case involving a young Pennsylvania…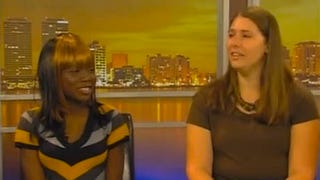 Craigslist is good for more than just finding cheap used furniture for your apartment. Out of desperation, 28-year-old Selina Hodge posted an ad for a kidney donor in July and wound up getting 800 responses. One was from 23-year-old Stephanie Grant, who lives nearby in Florida and saw a story about Hodge on TV. "I had…
The NFL's Chris Henry died last year after falling from a pickup truck during a fight with his fianceé. His mother Carolyn Glaspy opted to donate his organs, and recently met the recipients, reports CBS Sports. Grab your tissues.
[London, July 13. Image via Getty]
It's ironic that Elisabeth Hasselback wants the government to stay out of her uterus after she's dead. But when people are alive, the organs are fair game for politicians making laws how to use them.