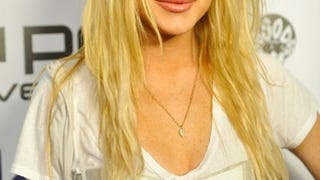 A source claims that Lindsay Lohan "stormed out of" Brittany Gastineau's birthday party in tears after her ex-girlfriend, Courtenay Semel confronted her at the party and tried to talk her into going to rehab. [PageSix]
Well here's one we haven't heard before: A source claims that Macaulay Culkin is Blanket Jackson's father. [The Sun]
Adam Goldstein better known as DJ AM was found dead yesterday at his New York City home, nearly one year after miraculously surviving a plane crash with fellow musician, Travis Barker. Goldstein was 36 years old. [People]
Lady Gaga was booed by her British fans yesterday after showing up 20 minutes late to her performance and then having to cut her set short as a result. Maybe they were just saying boo-urns? [TheSun]
Do you remember Liam and Patsy? Oasis v. Blur? Britpop and Cool Britannia? If so, you may be curious to know what aging musician Liam Gallagher's been up to: trying his mightiest to ride the 90s nostalgia wave all the way to the bank. Not that we can blame him!
Lindsay Lohan continued her post-breakup bender by hitting three clubs last night and throwing eggs at X17 photographers. [Us]
Behold actress Rene Russo, doing moderately fetishistic things with designer Brian Atwood's shoes and a hunky model, for a limited-release book, which sounds suspiciously like a fancy lookbook. [NY Mag]
Sean Penn is pushing for Harvey Milk's birthday to be recognized as a "day of significance" in California. Governor Schwarzenegger vetoed the bill last year, but Penn hopes his Oscar may change his mind.
Ellen DeGeneres has come out against Proposition 8 on her blog. She says: "It's called, 'The California Marriage Protection Act' — but don't let the name fool you. It's not protecting anyone's marriage. Not yours. Not mine." She continues: "Please VOTE NO on Proposition 8. And now that you're informed, spread the…
Gwen Stefani gave birth yesterday! The baby boy, Zuma Nesta Rock Rossdale, weighed 8 1/2 lbs. Yes, "Nesta" was Bob Marley's middle name. Gwen and Gavin's other kid, Kingston, is named after a town in Jamaica. See the trend? [People]