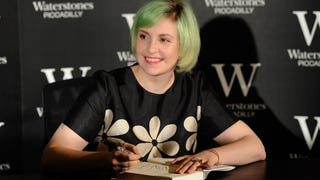 In a long essay published on BuzzFeed Tuesday night, Lena Dunham discussed the various nasty things that have happened since she revealed in her book Not That Kind of Girl that she was allegedly raped in college. "Since coming out as a survivor," she wrote, "I have gone from an intellectual sense of the ways in which…
After facing a wealth of insane criticism from the right wing media outlets, Penguin Random House, the publisher of Lena Dunham's memoir Not That Kind of Girl, has announced that they will be clarifying that the name of Dunham's alleged rapist is not real in future books so he will not to be confused with a real man…
The latest phase in the relentless Lena Dunham outrage cycle is an explosive one: people are accusing her of sexual abuse because of a passage in her memoir where she, at age seven, investigates her one-year-old sister's vagina.
I excel at avoiding the ubiquitous—push notifications, Knausgaard; libertarians, pumpkin spice—and as a result I came to Not That Kind of Girl in a near-amniotic lack of context. I had never offered an opinion about Lena Dunham or listened to one consciously; except for the thing she wrote about her dog I had…
In her new memoir Not That Kind of Girl, Lena Dunham reveals that she was sexually assaulted while she was an undergrad at Oberlin College. "I was at a party, drunk, waiting for attention. And somehow that felt like such a shameful starting off point that I didn't know how to reconcile what had come after," she…
An excerpt of Lena Dunham's new book is available at the New Yorker; in it, she discusses the various therapists she had as a child and then teenager, one of whom eventually led her to her best friend Audrey Gelman.
Though her proposal and potential cover was leaked to Gawker over a year ago, Lena Dunham's book now has an official release date – October 7, 2014 – and an official cover.