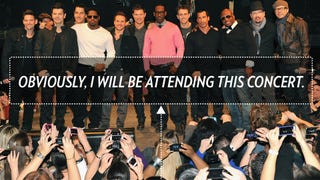 In case you haven't heard (because you've been doing some kind of David Blaine situation where you live inside a sealed barrel for one year and eat your own pee) New Kids on the Block is teaming up with Boyz II Men and 98 Degrees for a 2013 stadium-sweeping super-tour called THE PACKAGE. Ahem. Now, if you know…
Backstreet's back, alright? You've been hangin' tough, but now you're like, "I want it that way."
More LaBeoufWatch: Now you can own a piece of debris from his headline-making car crash! Like all magical things, this piece of celebrity memorabilia is for sale on eBay (current bid $158.00, there is no God). • Hm, we wonder how the Hiltons feel about the $4,600 they donated to John McCain's campaign last year being…
We were "purchased" by Conde Nast...not. But you guys got your panties in some serious bunches about it.