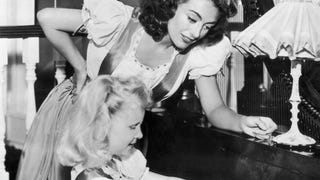 Not content with simply making her mother's name synonymous with bad parenting, Christina Crawford is developing a one-woman show in which she she'll share new details about her family — including never-before-seen home videos of a nude Joan Crawford. The play, which is titled Surviving Mommie Dearest, is based on her…
Courtney Love spent Mother's Day posting 60+ Tweets aimed at her estranged daughter Frances Bean, joking about being Joan Crawford, giving Frances feminist relationship advice, and telling her something many daughters hate to hear: "your just like me…"
Kate Moss's company, Skate LLC, reported revenues of just over £1 million and profits of £771,139 during the year 2009. This is a significant drop from when she made 6.5 million in 2007. [Daily Mail]
Crossing the line from honesty into bizarre callousness, 33-year-old Shelley Price has chosen to tell the Daily Mail that she's never loved her eleven-year-old daughter Catherine.
Some Christmas cheer from a famous American mother, via Mommie Dearest.
When you're a child, your parent can seem like the earth, moon and sun. That's why an off-hand remark can inadvertently affect a child for life. In this month's O: Oprah Magazine, writer Lisa Dierbeck talks to comedian Margaret Cho, pro basketball player Tiffany Jackson, opera singer and controversial gastric bypass…
People always cite Mommie Dearest as the end of Fay Dunaway's career as a legitimate actress, which is unfortunate. Her performance is campy and over-the-top, sure, but it's also kind of spot-on, especially considering the source material is traumatic childhood memories. The other thing is that she is unintentionally…
The old adage that men marry their mothers has some truth to it, according to some scientists who study this sort of thing. Researchers at the University of Iowa have discovered that "If a man's mother is highly educated, chances are the woman he marries will have a similar education," Reuters reports. They surveyed…
OMG! Juicy blind item. Which celebrity mother is making the other mommies paranoid? This question appears in the column of Dr. Joyce Brothers today: "Dear Dr. Brothers, I am up against a rather delicate situation as a new parent at a nursery school, and I've decided to ask your opinion... My child is an adorable…
In today's New York Times, famously-scurrilous book critic Michiko Kakutani gives a rave review to Her Last Death, Susanna Sonnenberg's debut memoir about her totally batshit mother, "Daphne." While Sonnenberg's mom "possessed a magical charm and a contagious, manic enthusiasm, especially in...her…
[East Hampton, N.Y.; August 4. Image via Splash]