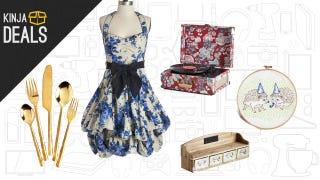 For those who haven't yet begun the daunting task of holiday shopping, there's still hope for you. That hope happens to come in the form of Modcloth, a behemoth of an online retailer that's offering a 30% sale on holiday everything. Below, we rank our favorites.
ModCloth, the spunky, vintage-inspired retailer for Zooey Deschanel devotees, has until recently only been accessible online. But the July opening of their first brick-and-mortar store in San Francisco signaled the company's plans for expansion: more physical stores, athletic wear, even a bridal collection.
Greetings from a bunker, where I have stockpiled dried apricots and seltzer and plan to wait out everything to do with this #ImNoAngel ad campaign. Good try, Lane Bryant, but no number of beautifully shot images of Ashley Graham will erase years of trying on asymmetric polyester garbage at your stores, hunting for…
ModCloth, the online clothing retailer, laid off 70 employees yesterday. The Los Angeles-based company has raised $63.7 million since it launched in 2002, including investment from Accel Partners and First Round.
I make fun of ModCloth on the regular; it's kind of impossible not to. At times, their sheer tweeness is enough to make Lisa Frank look like Axl Rose, and there are only so many bespectacled cats you can fit on one outfit. But I have a (truly adorable) secret. The same day I wrote this article, I ordered this, this,…
I love twee online boutique ModCloth as much as the next girl who loves adorable shit. If I could afford it, my entire closet would consist of various woodland animals printed on rompers and barrettes shaped like slices of pepperoni pizza. Actually, if I could afford it, I'd just have someone size up Zooey…
As we all know, swimsuits are a highly-charged issue. But, kids, if you're wary, this is your year: It's all about glam and flattering Old Hollywood looks that Marilyn — or you — would happily sport.