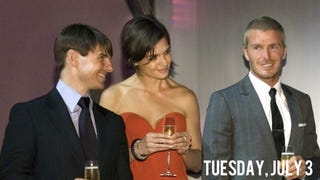 "This celebrity couple is close to a final agreement over how everything – including the child/ren – is going to be divided in the divorce. However, the wife's legal team is having her keep one chip in her pocket for the divorce trial. If the husband's team tries any last-minute maneuvering, the wife is not afraid to…
Eagles quarterback and infamous former dogfighter Michael Vick was slated to to tape an interview with Oprah today, but he pulled out at the last minute. What's behind this change of heart?
The new single from a singer named Lola is actually a track by Jennifer Lopez.
• Residents of Mansfield, MA are not happy with a new salon about to be opened in their town. "Knockouts" is a Texas-based chain that offers "haircuts for men" from women dressed in boxing gear. •
Does Jay-Z reference Anna Wintour in his song "Empire State of Mind"? The line in question is: "caught up in the in crowd/now you're in-style/and in the winter gets cold en vogue with your skin out." [Fashion Week Daily]
[East Rutherford, New Jersey; September 3. Image via Getty]
Amy Winehouse was hospitalized for dehydration after she "fainted after being out in the sun and without drinking water. She has been taking part in a lot of activities which also played a part."[TheSun]
The season premiere of DogTown, a National Geographic Channel show that follows rescued dogs at the largest no-kill animal facility in the U.S. by the same name, will have an extra-special focus tonight: The pit bulls rescued from Atlanta Falcons quarterback and kennel/dog fight ring operator, . The episode focuses 4…
Joel Madden is reportedly planning to get a tattoo with his baby's name on it in late January after Nicole Richie pops out their spawn. Potential baby names? Ryan, Lennon, Casey and Dylan to reflect Joel's "Irish heritage." • Evil dog murderer Michael Vick is sentenced to 23 months in the pokey. Did he deserve more…
Poor Fergie reportedly barfed all over herself while at the Minnesota State Fair. Maybe it was all the fried food on a stick? [Dlisted]

Speaking of Minnesota: Republican Senator Larry Craig got busted by the police for "lewd behavior" in the gentleman's room of a Minnesota airport. Hasn't the Land Of 10,000 Lakes been…
Moe is being interrogated by El Al as I type this, which means that her stock market/foreign policy-illuminating "Evening Purge" will be on hiatus until she returns from The Homeland next week. (My homeland, she keeps telling me. Not hers. Whatevs.) And so, back by not popular demand, my Bush-hating, animal-loving…