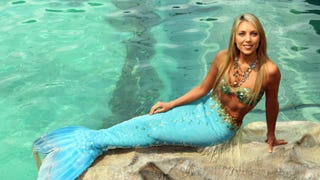 Ugh, vampires have been lurking and staring and silently inhaling ravioli fumes on dates with high school-aged human women for, like, years now. We are all tired of it. It's about time for a sea change in the Sexy Mystical Young Adult Fiction Love Interest landscape. In this instance, "sea change" literally means…
Obviously people want to be mermaids, even if the government says they don't exist. They look like people but have glittery tails. Some of them were called Sirens and had the power to control men with their sexiness. They can breathe underwater. And they are probably related to/actually are manatees, the best animal…
Here's some sad news, you guys: Mermaids don't actually exist. I know, I know, we've spent all that time that Splash was a documentary, but no, mermaids are nothing but a figment of our collective imagination. How do we know (except for, you know, already knowing)? Because the National Ocean Service, a part of the…
Part of your world: Young women playing mermaids at the Weeki Wachee Springs park in Florida. "They are still local celebrities to many people," says photographer Annie Collinge, whose photography project documents the performers.
Obviously asking logical questions is pointless in this scenario, but I can't help myself: Why would a mermaid exclaim "I'm so wet"? Don't they spend their lives in the sea? And where do mermaids shop for their underwire bras? And are we actually supposed to feel confident giving our personal financial information…
Since 1983, the annual Mermaid Parade has attracted people of all ages, shapes, and sizes to parade around town dresses as like a mermaid to pay homage to Coney Island's Mardi Gras era (which ran from 1903 to 1954.) And when we say all ages, shapes, and sizes, we mean it. For proof, enjoy a collection of our favorite…
Ladies, American Apparel believes a spot of cooking and cleaning might brighten your mood. The female mannequins in the NoHo store window are currently mopping, baking, and doing laundry with implausible zeal. The male mannequins? They are wearing sweaters.
[Brooklyn, June 19. Image via AP]
[Manila, June 5. Image via Getty]