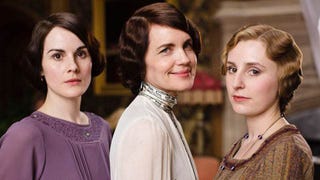 Executive producers at Downton Abbey recently announced that they will be releasing a whole slew of Downton-branded merchandise when the show's fourth season premieres in the UK this September. Thus far, licensing agreements have been made with beauty supply companies, winemakers and even paint factories — just in…
JK, who knows how the sales are doing — what we do know is that people were fired, and pants are now opaque. You can currently buy your real house pants of Beverly Hills and wear them to church. Everybody wins! Except your checking account.
Apparently change came fast for plenty of opportunistic patriots last week — an unprecedented moment of national and romantic triumph! Like the sailor spontaneously sweeping a nurse into his arms in a symbolic burst of triumph on V-J Day, science teacher Jared Joiner tells the
Washington Post
's Monica Hesse that he…
If being portrayed on the sole of a shoe and walked on qualifies as a tribute, then artist Jimm Lasser's
"Obama Force One"
is the ultimate compliment. Also good, we suppose, for those Dems who don't like to wear their opinions on their, um, sleeve. []