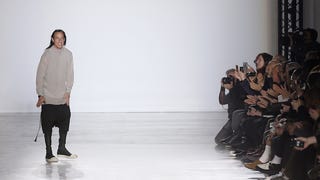 "I thought it was the most simple, primal gesture—and you know I love a simply tiny, little gesture that packs the wallop," designer Rick Owens said regarding the three peek-a-boo dicks that flapped down the runway yesterday during his fall 2015 menswear show.
Despite previous evidence that meggings were probably not going to happen, it now seems that the male legging could become a Transatlantic fashion trend, especially since fashion icons like Justin Bieber (!) and Russell Brand (!!) and Lenny Kravitz (!!!) have been spotted showing off their shapely calves and kneecaps…
Yesterday we learned that a boy model sobbed as he walked up and down the runway at the Smalto men's wear show in Paris, and now we have the video. What's great (and terrifying) about children is that they haven't yet been turned into properly behaved humanoid drones by years of society's message training and petty…
If you really love fall and hate how winter's snowy slushy doom steals it away from us, then you might make your own "zero footprint shirt" a la Brooklyn-based artist Dave Rittinger. Wear fall on your person, all winter long.
The Dutch clothing company Suit Supply came up with an innovative new strategy for selling its wares: make the ads all creepy and porno-like. Wearing a snazzy suit most def gets you free upskirt peeks and kinky kitchen play, guys.
Need a gift idea for that special hipster someone? Get him a "sport holster," from the aptly-named company Urban Tool. [BuzzFeed]
"Paxil Rose." "Meth Rogen." "Sheepshead Gay." "Grandpa Got Lost On The Way To The Bookie." Best Week Ever hilariously reminds us that men's runways can match the women's shows, insanity for inanity. [Best Week Ever]