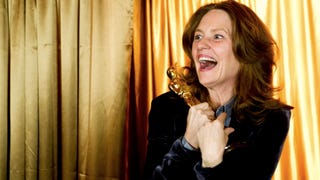 Here's the trailer for Why Stop Now, the upcoming movie chronicling Eisenberg as a piano prodigy attempting to get his mother (Melissa Leo) into rehab the same day as his audition for a prestigious music institute. Things don't go as planned, however, when the pair get involved with the mother's drug dealer (played…
OMFG: Prince William and Catherine Middleton — sorry, the Duke and Duchess of Cambridge — will be visiting Los Angeles this summer! They will most likely stay with David and Victoria Beckham. Will they take iPhone pix of themselves in front of the Hollywood sign? Will they place their palms inside of Marilyn's…
Alice Ward, described as a "tough-talking mother of nine," died yesterday after being taken off of life support. Ward and her sons, retired welterweight champion Micky Ward and his trainer half-brother Dicky Eklund, inspired the award-winning film The Fighter, starring Melissa Leo, Mark Wahlberg and Christian Bale. At…
It's only fitting that the redux of the classic soapster Mildred Pierce should bring out Golden Age-level glam. And did it ever!
Evan Rachel Wood embodies the film noir femme fatale in this all-stops-out plum wiggle dress. "Hollywood Royalty" is a deeply asinine expression, but I'm just saying, when Jayne…
Pretty darn horrid, in fact.

Let's start with what's sure to be a controversial pan: Dame Helen, in what to me looks rather more mumsy than is her wont. And in Vivienne Westwood, less! Rather less questionable? 's exercise in maximalism. And I don't know if it's better to think that Emma Stone worked with a…
If you've seen The Fighter, you know that Melissa Leo's chainsmoking, white-jeaned matriarch vies with Christian Bale for stealing every scene. But when it comes to the Oscars, turns out Leo has to do even more heavy lifting.
Kim Kardashian, who is not an actress, and has admitted that her true talent is "marketing," attended the Screen Actors Guild awards, where she informed a reporter on the red carpet that she would like to be an actress.
The 2010 New York Film Critics Circle Awards, actually held in 2011, took place on a cold night. Which didn't stop Ruffalo and Firth from being hot, and Michelle Williams and Kerry Washington, seriously cool.
[Los Angeles, CA. February 22. Image via Getty.]