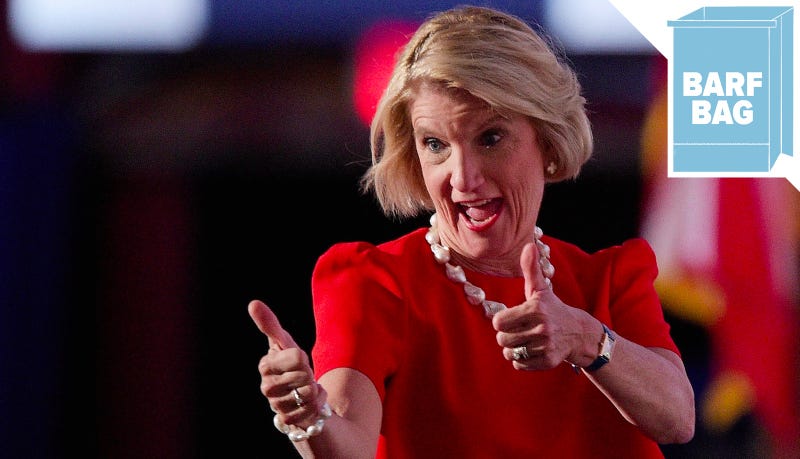 Welcome to Barf Bag, a daily politics roundup to help you sort through the chaotic Trumpian news cycle.
One of the most repeated shouting points against Obamacare's birth control mandate comes from politicians on the right who claim that "their" tax dollars shouldn't go to support "sexual choices" of women who use whore pills. Meanwhile, the same politicians are eerily silent about the millions of dollars per year the…
Maybe this clip spoke to me because I spent several years of my early adult life surrounded by shouty older dudes who thought that by talking more loudly than me, they could shut me up. But Soledad O'Brien's calm, measured response to Romney Surrogate John Sununu, using facts and Romney's own quotes, is a…

Did you know there was another Republican presidential debate last night? Well, there was, even though they just had one on Wednesday. Apparently these candidates are desperate for as many opportunities to open their mouths and end their candidacies as they can possibly get. This was the "Commander in Chief" debate,…
Thanks to new regulations going into effect today, any hospital participating in Medicare and Medicaid must allow visitors of patients' choosing, whether or not they're married or related. The upshot is that gay couples cannot be denied visitation rights.
America — third-fattest country in the world, according to the WHO — has a schizophrenic relationship with food. Could the union of obesity activists and eating-disorder advocates generate any real insight? Strangely, at a recent panel, it kinda did.
[Washington, D.C., July 30. Image via Getty]
If you were sad that Gwen Ifill did not ask Sarah Palin about those pesky rape kits she cut from the Wasilla budget, you'll be happy to know that the Daily Show's John Oliver has the last laugh. After Palin made a reference to Biden's statement about drilling "raping the outer continental shelf" during the VP debate,…
Senior citizens in Western Pennsylvania dialing the number for Medicare listed in Verizon's 2007 White Pages are accidentally getting health benefits of a very different kind. It turns out that the toll-free number listed is actually for a Philadelphia-based phone sex line. The 2008 White Pages with the correct number…