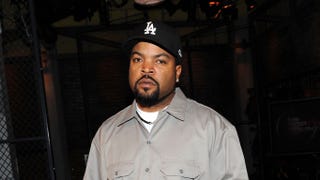 Alas, MTV hath done Ice Cube a great disservice. Mr. Cube believes that he and Kevin Hart should have won "Best Onscreen Duo" at last night's MTV Movie Awards for their work in Ride Along, which is a movie about two guys and one of them is worried and the other one has a car. But instead, Cube and Hart were cruelly…
It's just been announced that a few days ago Bunny Lebowski was brought to the hospital in Nice, France with a case of acute pancreatitis—and, according to her Twitter, a Jet Ski-related back injury. She will have to remain in the hospital until she's fully recovered, but her condition isn't life-threatening. Up until…
Soap opera-dreamy pair Heather Locklear and Jack Wagner are preparing to tie the knot!
Jon Hamm was on Kimmel last night, where he was greeted by what sounded like screaming Beatles fans from 1964. Jon didn't disappoint, and killed with a comedy riff about MC Hammer. Part two after the jump.
As Parsons professor and fashion historian Beth Dincuff Charleston tells the Wall Street Journal, "It's a gutsy move to wear ugly clothes." For some women, wearing clothes that invite insults and laughter is well worth the mockery.
M-K Olsen is supposedly venturing out of her Salinger-esque hiding to attend the Giambattista Valli show today. [Fashion Week Daily]