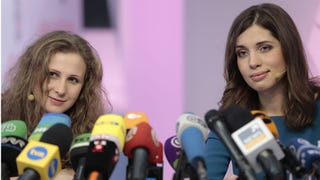 Days after Pussy Riot's Maria Alyokhina and Nadezhda Tolokonnikova walked out of a Russian prison, the pair held a press conference detailing their next moves.
Reuters is reporting that Pussy Riot member Maria Alyokhina has been released from prison as a result of an amnesty bill:
Maria Alyokhina—one of the members of the Russian feminist punk band Pussy Riot sentenced to two years in prison for a performing a 40-second anti-Putin protest—was denied parole again and was not even allowed to attend her hearing.
Maria Alekhina, member of persecuted Russian feminist punk group Pussy Riot, was hospitalized Tuesday after the seventh day of a hunger strike spurred by months of predictably vicious treatment by prison officials.
Ready for a trip to the frightening Twilight Zone episode that is Russian punk band Pussy Riot's continued incarceration? After being refused permission to appear at her own parole hearing and subsequently forbidding her lawyers to further represent her during the hearing, Maria Alyokhina, one of the band's two…
Citing "strained relations" with her fellow inmates at a Russian penal colony in Perm, Maria Alyokhina, one of the imprisoned members of Pussy Riot, has asked to be transferred to solitary confinement. Reuters reports that prison officials obliged her, though a spokeswoman for the Russian prison service dismissed…