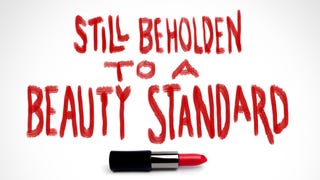 Most of us agree a positive body image is a good thing, but we may not agree on how to cultivate it. That much was evident when Australian website MammaMia launched a well-meaning "Body Positive" campaign on Twitter recently with the #MMbodypositive hashtag, meant to address some troubling statistics they discovered…
Well, this is something. Another side of Chris Klein, let's say. But thank you, Disgruntled Casting Assistant Who Probably Leaked This, whomever you are. (Also: if it's fake, does that make it any less weird?) [Buzzfeed]
[London, January 24. Image via Getty]
The mother and grandparents of an Italian boy are being charged with child abuse for their smothering, overprotective love, drawing attention to the problem of overinvolved parents in Italy and elsewhere.
Chris Brown has reportedly moved on. His new ladyfriend is actually an ex. She attends University of Mary Washington and they met in Virginia, which is where he's from. His reps deny everything. [Gatecrasher]
Jennifer Lopez attended the Latino Inaugural Gala on Sunday and said of Barack Obama: "He is the biggest star here, even though it's chock-full of celebrities." Well, yeah. [People]
This was the year, we're told, that Hollywood started making movies for women... as long as they were totally inane. And next year, as Self-Help Cinema launches, they'll be even more vapid!
Mamma Mia!, the rollicking Abba-fest that raked in $28 million at the box office this past weekend has been hailed by some as a feminist film because the writer, director and leads are all women over 40. In early July, MM co-producer Judy Craymer told the New York Times that the movie is, "about real women." Well, I…
And you thought it was just the Austrians who were sick fucks: 47-year-old Maria Monaco of Italy, much like 42-year-old Elisabeth Fritzl of Austria, was found captive in her mother's house after 18 years of imprisonment. Upon receiving an anonymous tip, police found Monaco locked in a room where she was "surrounded by…