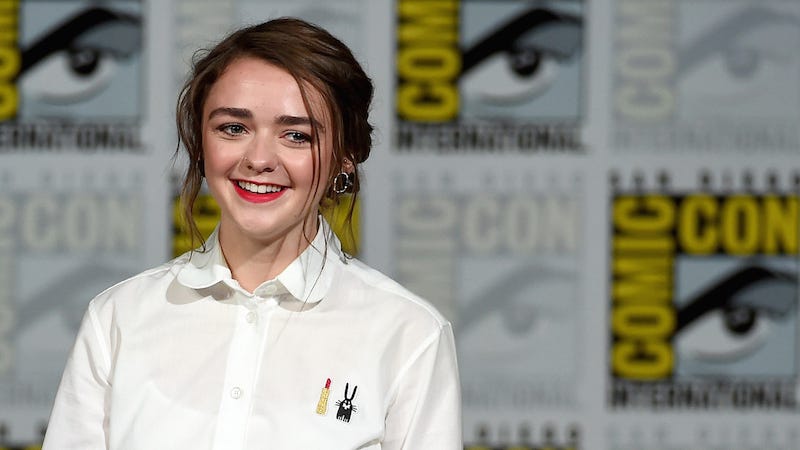 Maisie Williams, the actor known for playing one of Game of Thrones' several angry orphans Arya Stark, recently wrapped production on The Falling, a movie about sexual education at an all-girls school in the 1960s. In the film, her character loses her virginity. According to her, it was awkward.
Maisie Williams, Game of Thrones' Arya and prolific/excellent user of social media, has greeted Emma Watson's now-famous feminism speech at the UN with some skepticism. In a new profile at The Guardian, Williams declares herself a feminist but that she is "impatient" (The Guardian's word) with "first-world feminism"…
Season four of Game of Thrones contained some major departures from the books — and some of them underscored just how much Bran and Arya Stark no longer want or expect to be rescued. We caught up with Isaac Hempstead-Wright and Maisie Williams at Comic-Con, and they told us why things are only going to get murkier.
Arya Stark is one of my favorite Game of Thrones characters. From the way she shirked princess training for sword lessons — sword fighting is for girls, obviously — in season one, to how she wouldn't shy away from a fight in season two and learned the ways of life without her family in season three. Now, as season…
There are a lot of Game of Thrones fans out there who are really into the idea of Arya Stark, the tiny baby child of Ned Stark, eventually hooking up with Gendry, the older bastard son of Robert Baratheon. If you don't believe me, just google the fan art. Or — you know what? — better yet, just trust me on this one and …
Answer that question and she will shove Needle straight through your eye. Besides, don't you know that the cinnamon challenge can KILL you?